About Me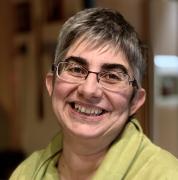 Who would have thought…
As a child and a teenager, I was surrounded by people who had given up their dreams of becoming artists because it was too risky when you have to support your family, because they thought they were not talented enough, because they didn't have the right connections.
Artists belonged to another world, not ours.
So I became a teacher. It is a great job. You work with human beings at a crucial moment of their lives. You learn about human nature so much, and about yourself, through this job. You also get a lot of opportunities. In my case, I discovered drama workshops as part of in-service training and at the same time, I was contacted by an English-speaking theatre company that wanted to tour France. I already knew thanks to judo that you can reach your goals, provided you put enough effort to do so.
As a result, I decided to work part-time for school and started to organise tours for one company, then another one, and so on. It was particularly enthusing because I saw the results of my work on several levels. The spectators benefited from it, the companies and the actors too. Subsequently, I was one of the founders of a non-profit organisation promoting learning and practising languages through theatre. It certainly helped me understand how to manage a team.
Later, thanks to the artists I was in contact with, I also discovered writing and shooting films.
All this was hard work but so fantastic ! I was more and more involved in the entertainment world, learning more about human beings. I finally understood that artists belonged to my world.
However many a great actor I had met put an end to their career because it was so difficult to find work. Others kept fighting but in spite of the fantastic feedback I got from the people who saw their shows and were in contact with them, they didn't get the jobs they wanted during auditions.
So when I was asked if I could be a manager, I thought things through and decided to take the leap.
My aim is to lead an agency in which my talents feel confident and secure, casting directors and producers trust me, and that together, we give chances to all to be creative and to enrich the world of entertainment.